Halloween Drag Bingo - Oct. 28, 2022
Local luminaries came together for an Eleganza Extravaganza to benefit Transpire Help.  The Alfred Fiandaca Ballroom at Compass LGBTQIA+ Center was transformed into a glittering show lounge decked out for Halloween, which set the stage for the first Drag Bingo fundraiser held in Transpire Help's name.  We're not just talking about Drag Queens calling bingo.  This was so much more!   
Big Momma, Danielle Montgomery, Lupita Hollywood, Malaja Storm, Rex, and Pink Kryptonite wowed the audience with amazing performances between the rounds of bingo.  The evening was narrated by the spunky Mistress of Ceremonies, Mrs. Doubtfire.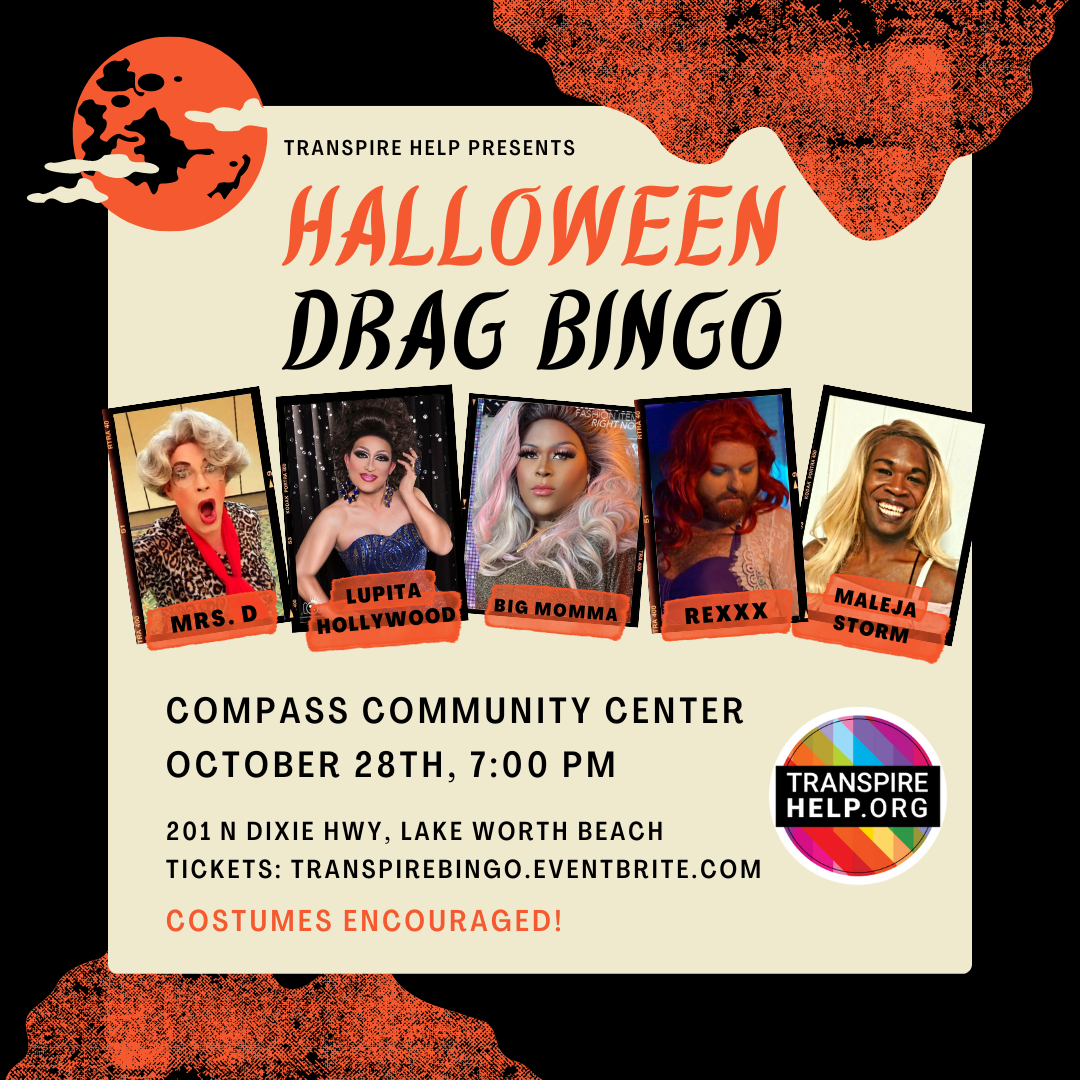 The talent on parade that night was being presented two-fold:  Many of the performers were wearing original designs by members of our community.  Big Momma, Lupita Hollywood, and Mrs.D. wore garments created by Lupita, and Malaja Storm was dressed by Liara Harmon.
The real fun shone through in the personalities presented during the drag numbers, and the bingo games.  Mrs. D. opened the show in a leather jacket and sunglasses, with a rock and roll version of the Mary Tyler Moore Theme, setting the tone for the evening!  Lupita served Tina Turner fierceness with We Don't Need Another Hero.  Malaja brought down the house when she ended the first act with And I am Telling You.  Sara Needleman brought the crowd back from intermission with a comedic, acoustic guitar rendition of They Say I'm the Best Kisser.  Big Momma had the room cheering during her Patti LaBelle performance of Somewhere Over the Rainbow.  Rex demonstrated pure comedy with a Shreck inspired rendition of Holding Out for a Hero.  There was an amazing, surprise appearance by Pink Kryptonite, who gave us Sister Act realness!  Danielle Montgomery's Broken and Beautiful was a spell-binding way to end the night.  
To say the least, the night was a huge success!  Moving forward, Halloween Drag Bingo will be an annual event.  Mark your calendars for October 27th 2023 when it will be happening again.  You won't want to miss out!