One of the best ways to create visibility for marginalized communities is through the arts and entertainment world. Through the art of all mediums, galleries worldwide, cultural centers and magazines, social media, TV, and movies—we are truly able to amplify the experiences of those who are less visible than the majority of people in our county. 
This is why exhibitions like AMBient are so important.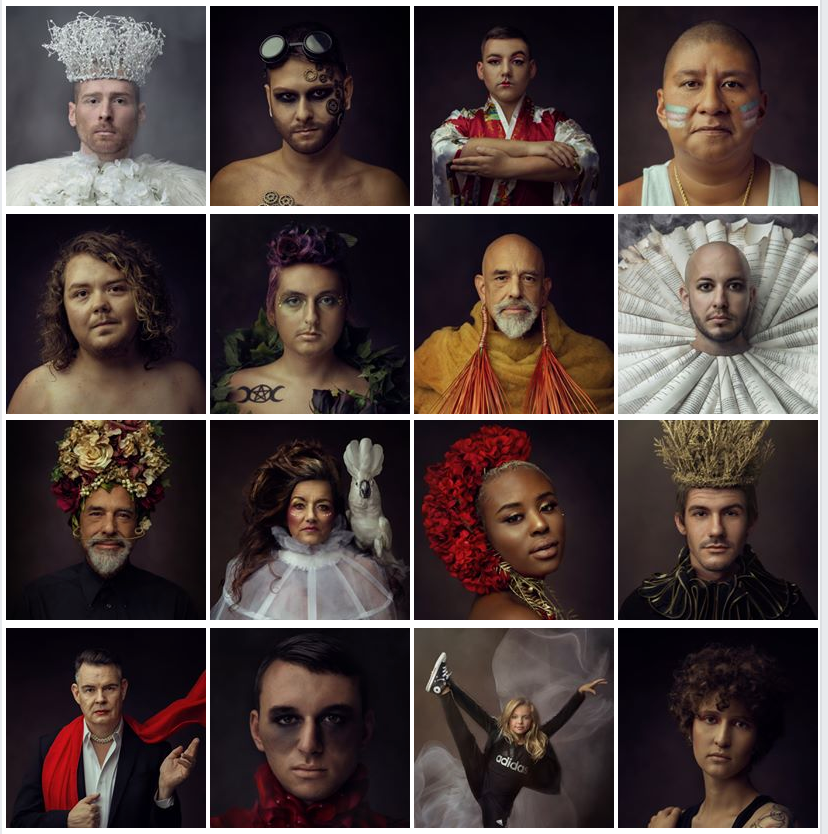 This project started as a seed. A seed that needed to be nurtured by the right elements for it to flourish into the incredible work of art and advocacy that it is. For those who collaborated to bring this life to work, we thank you for your time, energy, creativity and compassion.
As a non-profit organization dedicated to serving the LGBTQIA+ community in addiction recovery, Transpire Help could not be more pleased with the photographic art collaboration, opening event turnout, and community support for our first major fundraiser. 
Raising Awareness Through Nonprofit Advocacy
It's beautiful to have the vision and the follow-through to create a non-profit organization that benefits the most important causes in our communities. However, having the idea and completing the paperwork is not the hardest part of creating a charitable organization. 
What's challenging is getting your name out there and being able to raise money to support your mission. 
Without visibility and fundraising, a charitable organization isn't able to support its mission, purpose or potential beneficiaries. It remains to be a great idea but it falls short of meeting its goals to have a positive impact on others and the world as a whole. 
So, that's a pretty easy way to explain why visibility matters in a way that we can all relate to. That example can be applied to for-profit companies, large or small. No visibility equals not a lot of business and/or success. Not much progress. 
The same goes for those who lack visibility and representation in our society. The LGBTQIA+ community is among those who need more visibility in America. This includes more LGBTQIA+ being represented in advertising, in TV and movies, spot-lighted as small business owners and other opportunities for local and national awards and acknowledgments of achievements. 
Why Visibility Matters
Without proper representation, the media industry—just like other industries that define our culture—communicate to society that these people who are not represented are not as interesting, important or valid in our communities. "We don't value you ENOUGH" to include the voices, images, and identities of LGBTQ+ individuals in our campaigns, educational materials or other media outlets. 
The truth is, until lawmakers and media executives make a concentrated effort to include more marginalized communities in governmental policies and media representation—then it is up to advocacy groups to raise awareness and the resources necessary to fill the gaps created by the people in power. 
Luckily, marginalized communities are really good at representing themselves! Due to the accessibility to social media and the expansion of media literacy—we are seeing a major shift in how people from minority groups are representing themselves. 
The AMBient show is a combination of efforts from people who are advocates of the LGBTQIA+ community, and those who are members of the community. The result is a body of work that beautifully represents gender fluidity. 
What Does Gender Fluid Mean?
If someone is gender fluid, they do not have a fixed gender that they identify with. It's important for this term to be gaining visibility while more Americans are becoming familiar with transgender identities as a whole.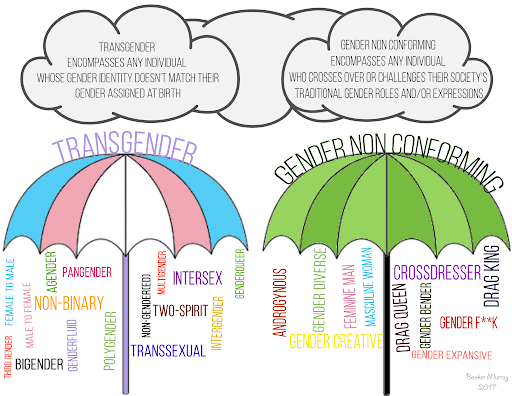 As you can see in the illustration, transgender is an umbrella term. And also shown here is gender non-conforming as an umbrella term.
There are many ways that an individual person can identify. As the LGBTQ+ community becomes more aware and inclusive of people on the gender spectrum, allies and advocates also need to grow in their understanding of the different ways people identify. 
In addition to visibility more education and required cultural competency training for staff in public and private sectors can become more inclusive in how they interact with LGBTQ+ individuals. With more information, people make informed decisions about being respectful to people who are different from themself. 
AMBient Gender Fluid Photo Art Project
Each photograph in the AMBient exhibition captures the essence of an individual in a way that reflects something internal for them. Gender identity and sexual orientation are such intensely internal experiences that rarely become represented externally in a way that honors and amplifies the feeling of the experience. Luckily, the visual arts provide the opportunity to go there and bring the viewers along for the ride! 
When you look into the eyes of the people in the photos and the ways they are stylized, you can really get a feeling of their gender fluidity. AMBient brings us a human connection that is non-binary, non-conformist and unique to each individual. 
Wouldn't it be incredible to see more people who are gender fluid, transgender, and otherwise less represented in our mainstream society be represented? This is what inclusion and advocacy looks like. At Transpire Help, we're excited to be apart of more exhibitions and events like AMBient in the future. We are grateful to collaborate on events that help to bring together the community-at-large, the recovery community, and the LGBTQIA+ to create a positive impact. 
AMBient Exhibition Acknowledgements
We are incredibly honored by the support the AMBient Project has received. Thank you to everyone who has donated to our fundraiser and everyone who attended the opening night of AMBient. Please consider making a donation to Transpire Help. We have an ongoing fundraiser where people can make a contribution at any time to support our work. Thank you for your generosity!
AMBient will continue to be on display at The Box Gallery till March 2nd, 2020. After that, the AMBient Project will be apart of the Pride on the BLK on March 8th, which will kick-off Pride Month (for South Florida residents) and the upcoming Pride of the Palm Beaches on March 28-29th.
Pride of the Palm Beaches is presented by Compass Community Center, a sponsor of the Pride on the Block event. Please consider supporting the work of Transpire Help and our mission! 
AMBient THANK YOU's
Yunet Holmes, Olive & Lace Photography, AMBient Photographer & Artist. From all of us at Transpire Help, thank you Yunet for bringing the vision of this project to life and helping us raise the visibility of gender fluid individuals and the work of Transpire Help UP UP UP!
Collin Santini Adams, Stylist. In the words of Yunet Holmes, "thank you for your ability to dig deep and style anyone's dream into reality." Thank you Collin for being a joy to work with, a visionary stylist and an amazing member of our community.
Danielle Goreski, Makeup Artist Extraordinaire. In the words of Yunet Holmes, "thank you for putting your heart and soul into the transformations you create." Thank you, Danielle, for embracing our community so genuinely! You're such a gift to all of us!
Rolando Chang Barrero, The Box Gallery owner, and co-event producer. In our own words, thank you, Rolando, for your ongoing support of Transpire Help! You're enthusiasm and commitment to community-building on all levels is incredible and we're honored to collaborate with you now and into the future!
Donna Weinberger, Inspire Recovery CEO and AMBient Project conceptualization. Thank you Donna for being such a powerful stand for transgender, gender non-conforming, gender fluid, and genderqueer people! We know how passionate you are about the LGBTQIA+ community as a whole, and this project idea and your commitment to creating more opportunities for LGBTQIA+ folks in recovery is inspiring.
South Florida Gay News (SFGN), thank you for including the AMBient event in SFGN and your support for this event and future events! We appreciate the work you do to support the South Florida LGBTQ+ community. Click here to read the coverage of AMBient in SFGN.
Exhibition Sponsors