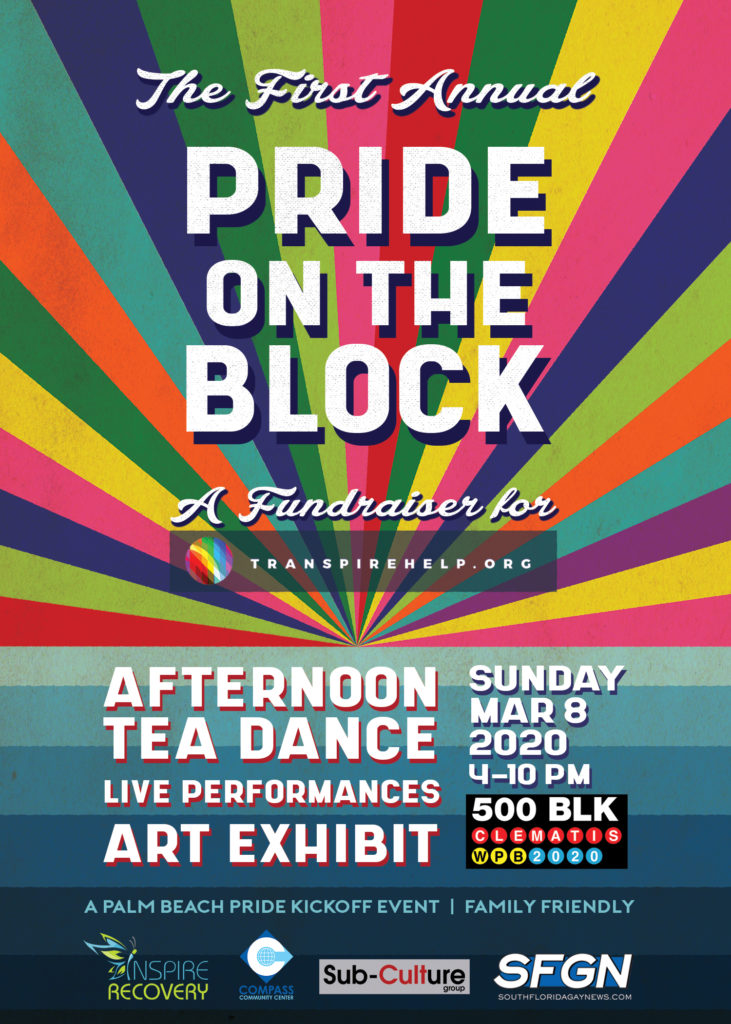 WEST PALM BEACH, FL—Transpire Help is proud to announce The First Annual Pride on the Block event. Pride on the Block is happening Sunday, March 8th from 4:00 to 10:00 PM on the 500 Block of Clematis Street. Pride on the BLK is the official Palm Beach Pride Kick-off Party and a grand celebration of the arts, community, and diversity—Pride style!
Pride on the Block is apart of the 500 BLK Clematis Street block parties that have been going on throughout the year. $10 wristbands will be on sale at the event as a fundraiser for Transpire Help. More information about the exclusive deals included in wristband donations. Thank you to all organizers, performers, sponsors, and volunteers for making this event and milestone for the LGBTQ+ Community.
The AMBient Exhibition
This event follows the roaring success of the AMBient Exhibition collaborative art and opening event. The work features the stunning photography art of Yunet Holmes and a team of people and participants that made AMBient come to life. Organizers of AMBient include Inspire Recovery staff and CEO Donna Weinberger, and The Box Gallery owner and opening event producer Rolando Chang Barrero.
Both Pride on the Block and AMBient are collaborative art and community events spearheaded by Transpire Help. We have been fortunate to share ideas with key community organizers and be able to move forward with these kinds of events. With special thanks for collaborators such as Rodney Mayo of Subculture Group and Rolando Chang Barrero of INTERmix, Art Synergy, The Boynton Beach Arts District & The Box Gallery. Pride on the Block is also possible with the support of the team of amazing advocates at Compass Community Center and the Palm Beach County Human Rights Council.
We recently reflected on the AMBient Exhibition in another post and shared about why visibility matters for the LGBTQIA+ community, especially for those in addiction recovery. The AMBient Exhibition shines a powerful light on the faces of gender fluidity and gender non-conformity in the queer and trans community in addiction recovery. It's truly been an honor to work with the artists and participants of the project. LGBTQ+ nonprofit organizations like Transpire Help need your support in raising the visibility of our organization and the people's lives who are transformed with the services and resources Transpire Help is able to connect them to.
Pride on the Block
For diverse communities, such as the LGBTQIA+ community, producing dynamic cultural art events has long been in our DNA. The First Annual Pride on the Block brings together a sea of LGBT talent and volunteers to produce a free experience for people of all ages to enjoy. It's a window into the world of queer and vibrant artists and organizers, just weeks ahead of our annual Pride Fest!
This is a free outdoor event sponsored, in part, by the Subculture Group, who is providing free drinks to attendees who make a $10 donation to Transpire Help. With your donation, you'll be given a wrist band with access to all stage and exhibition areas, 2 free drinks in the INTERmix Music & Art Exhibition area (located between Respectable Street and Lost Weekend), PLUS 25% off all the Subculture Group restaurants on the block.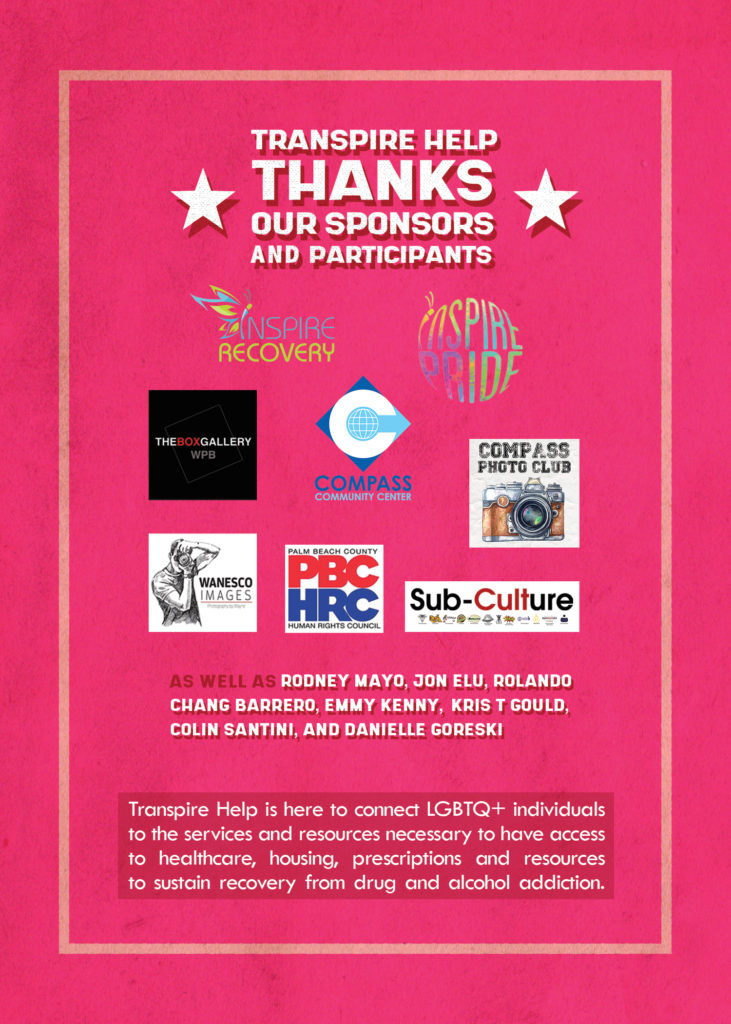 Event Includes: 
INTERmix Art & Music Exhibition (Indoor space, entrance next to Respectable Street)
Tea Dance (Daytime dance party)
Talent Competition Variety Show
Coffee House DJs at Respectable Street (official Pride on the Block Afterparty)
A Drag Show
Plus Many Special Guest Performers & DJs
Transpire Help, Celebrating Four Years
Transpire Help is a non-profit organization founded in 2016 to assist LGBTQ+ people who are committed to living free from drug addiction and/or alcoholism. We aspire to connect individuals to the care and resources necessary to create a solid foundation for a healthy and fulfilling life in recovery.
Here in our fourth year since getting Transpire Help off the ground, we gratefully feel embraced and supported by our local community across all avenues. From the arts to the LGBTQ+ and the recovery community. Fundraising is critical for any organization. What better way to raise money for LGBTQIA+ individuals living in the early stages of addiction recovery than a cultural fest? We plan to put on more events like these over the coming years. Click here to read more about Transpire Help and our fundraising campaign.
If you're interested in volunteering to produce fundraising events like these for Transpire Help, please contact us through our website. There are many ways to volunteering for Transpire Help, we welcome your support!
What to Expect at Pride on the Block 
A free, lively and family-friendly event infused with live music, art, games, and performances.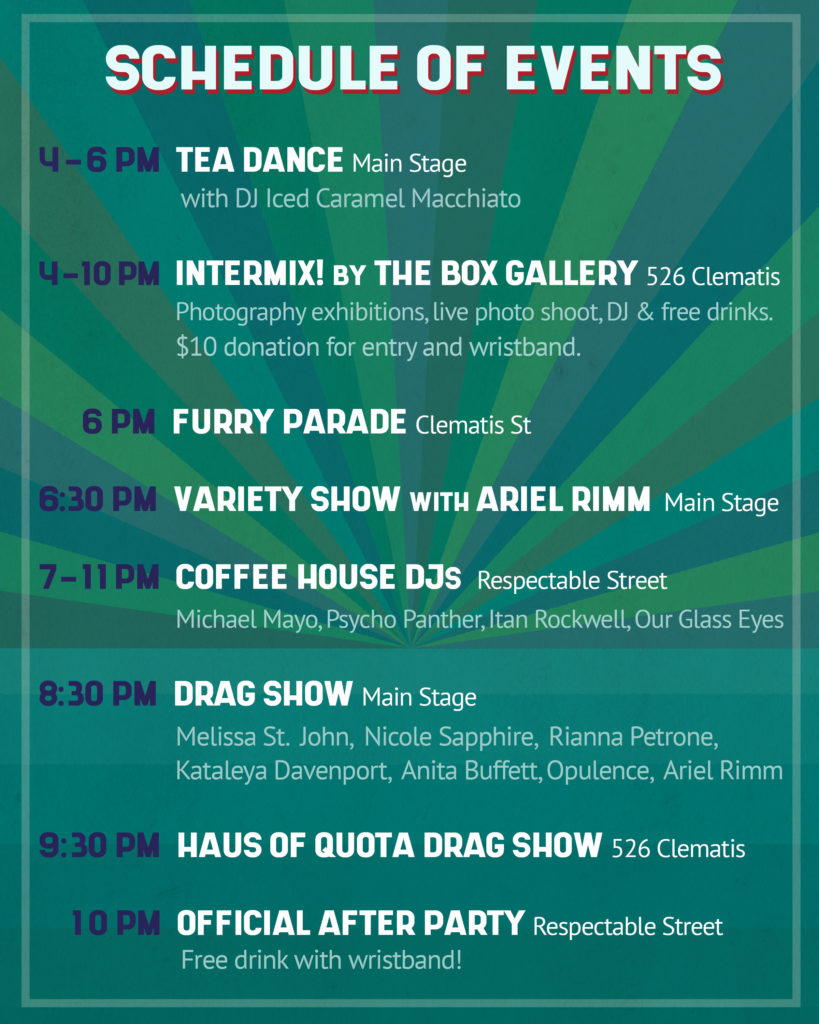 To start, we're hosting an outdoor Tea Dance! These dances are a throwback to the daytime Tea Time Dance Parties held in the late 1800s, England. The LGBT community has always loved the excuse for a dance party and South Florida's own Jon Elu has had a big part in keeping these dance parties going. A big shout out to Jon for helping to organize the Tea Dance at Pride on the Block, as well as the Drag Show! Attendees are sure to enjoy a high-energy afternoon dance party and amazing drag performances.
INTERmix! Where Community and Art Come Alive is an interactive Art & Music Exhibition by The Box Gallery. The exhibition will be located indoor at 526 Clematis Street. You will not want to miss this experience! There are more details below and on the INTERmix Facebook Event Page.
A LOT of performers are coming out to entertain Pride on the Block attendees! On the Main Stage, there will be a Variety Show talent competition hosted by the fabulous DragQueen Ariel Rimm at 6:30 PM and a full-on Drag Show at 8:30 PM. Haus of Quota will also be performing a Drag Show in the INTERmix space.
Check out the Coffee House DJs at Respectable Street where a Pride on the BLK wristband will get you one free drink. Pick up wristbands at designated locations at the event. DJs will be playing from 7:00 PM onward and be host to the official Pride on the Block After Party!
Media Coverage for Pride on the Block